Bed Bug Elimination For Jacksonville Properties
Bed bug infestations begin in a way that is unlike other pest infestations. Instead of coming in from your yard or the areas around your house, bed bugs get onto your clothing or into your bags when you go out in public places, then hang on until they find a suitable place to crawl off. If this happens to be in your house, a bed bug infestation can begin. Bed bugs are tricky pests to get rid of, but with Pestmaster® Services, you can say goodbye to your bed bug problem in no time.
Our Bed Bug Control Process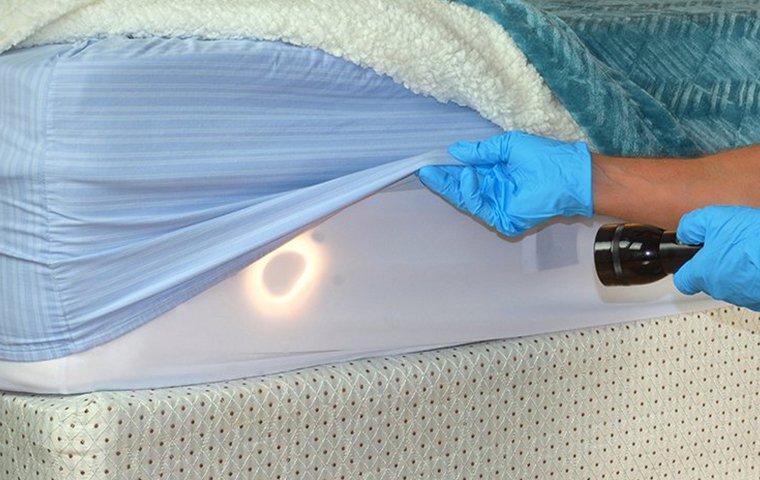 Bed Bug Inspection
If you have reason to believe that bed bugs have gotten into your house, contact Pestmaster® Services. We'll visit your home to perform an inspection, starting in the area where you saw the pests, then checking every room in your house for signs of bed bug activity.
If we verify that bed bugs are present, we'll provide you with a list of preparations that you must complete before we begin treatment. These include emptying cupboards and drawers and removing bedding from beds, among other things.
Bed Bug Treatment
Our experience has shown that a combination of heat and traditional chemical treatments are the most effective in the fight against bed bugs. Our treatments take about two hours per room to perform. During the service, we'll use heat treatments and apply chemical treatments in cracks, crevices, and wherever we see live bed bugs. We also use a powder treatment in electrical outlets, which stops bed bugs from traveling from room to room.
Follow-Up Service
Bed bug treatments require follow-up visits to ensure that we've eliminated the entire bed bug population in your house. We'll return one week after our initial treatment, and again two weeks after that. These visits include an inspection for signs of bed bug activity, as well as re-treatments if necessary.
Don't Let The Bed Bugs Bite!
Bed bugs are small pests, but they cover you in bites and cause a lot of stress when they invade your house. For bed bug control that works, contact Pestmaster® Services of Jacksonville. We'll eliminate your bed bug problem and will provide the follow-up necessary to make sure we've taken care of every bed bug. If you suspect bed bugs are in your house, contact us today to schedule an inspection.